In this post I compare the weights of four water bottles and one water bladder.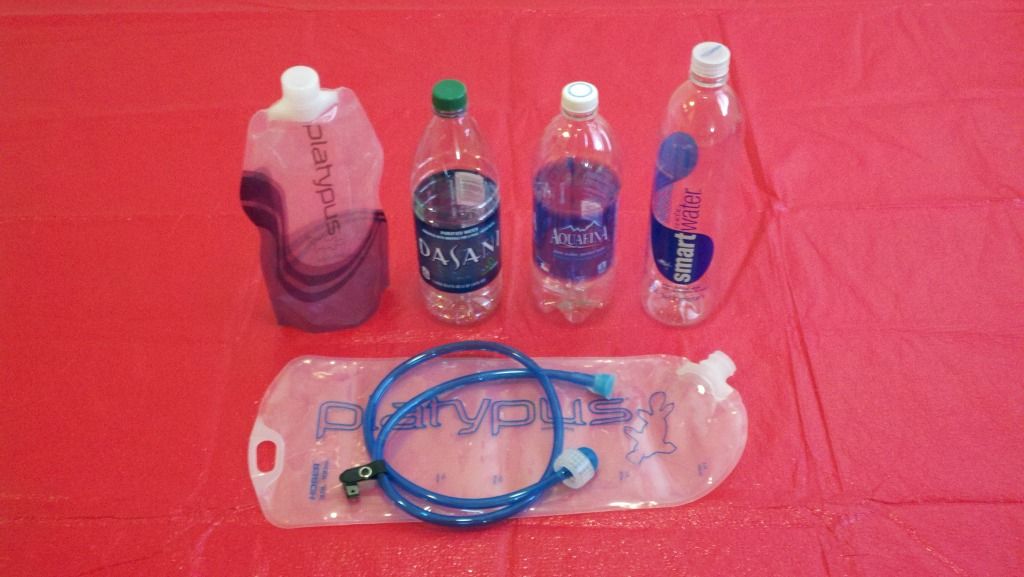 Bottle Weights for 1 Liter
Bottle/Bladder Weights for 3 Liters
| | |
| --- | --- |
| 3L Platypus Hoser bladder capped and carried as a bottle (without the 2.1 oz drinking hose) | |
| | |
| | |
| 3L Platypus Hoser bladder with drinking hose | |
| | |
| | |
The Dasani bottle is the clear standout here, being just about as light as the more expensive Platypus bottle. However, the Platypus does have the advantage of being collapsible when empty. The Aquafina and Smartwater bottles are about 50% heavier than the Dasani and Platypus, but they do feel slightly more durable.
Three 1L Aquafina or Smartwater bottles weigh about the same as my 3L Platypus Hoser bladder with the drinking hose attached. It's interesting to note that the drinking hose of my Platypus Hoser weighs more than the bladder itself. I like having the option of capping off the bladder and leaving the drinking hose behind. By capping off my 3L bladder and using a 1L Dasani for drinking, I can carry 4L of water in 2.6 oz of container weight. That's 0.65 oz of container weight per liter of water.
Finally, all four of these bottles and the bladder have the same cap size, which is convenient when using a combination of them for heavier water hauls. (I should add that the thread pattern of the Dasani cap is slightly different than the other three brands, which have identical thread patterns, but it does cap the other bottles relatively well when a little force is applied.)