I've never felt the need to wear gaiters, even when hiking in the desert. Sure, some sand and scree would get in my shoes and socks, but I never minded taking a break to dump and dust them, and it wouldn't be too long before all the remaining trail dirt on my feet would be rinsed away with a hot shower.
So why my newfound interest in gaiters, and how did I wind up with two pairs to review? Well, I decided to wear gaiters on my PCT thru-hike to help prevent blisters and keep my feet clean during the first 700 miles of desert. I wanted lightweight, breathable scree gaiters that didn't require instep cords to keep them in place. I originally wanted LevaGaiters because they don't even require the use of Velcro to secure the heel but bought a pair of Dirty Girls when I saw that LevaGaiters were sold out. A week or two after buying the Dirty Girls, I came across an available pair of LevaGaiters and snapped them up for comparison.
PRODUCT DESCRIPTION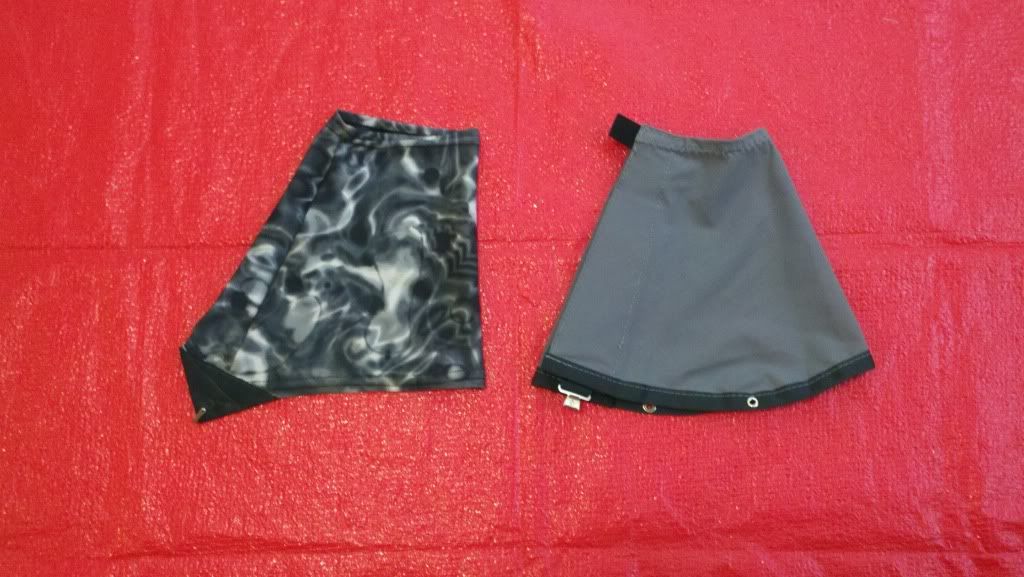 A

Dirty Girl Gaiter and a Simblissity LevaGaiter
The table below compares some basic differences between these gaiters.
| | | |
| --- | --- | --- |
| | | |
| | | |
| | | |
| | | Durastretch lycra, Antron nylon |
| | | |
| | XySmall, Small, Medium, Large, XyLarge, Dang! | |
| | | |
OUT OF THE BOX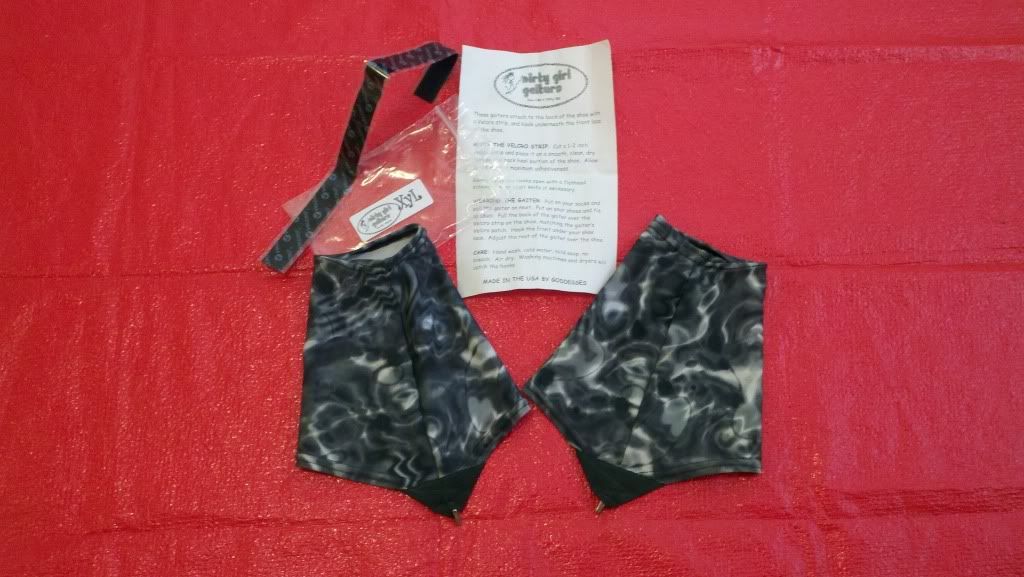 Dirty Girl unboxing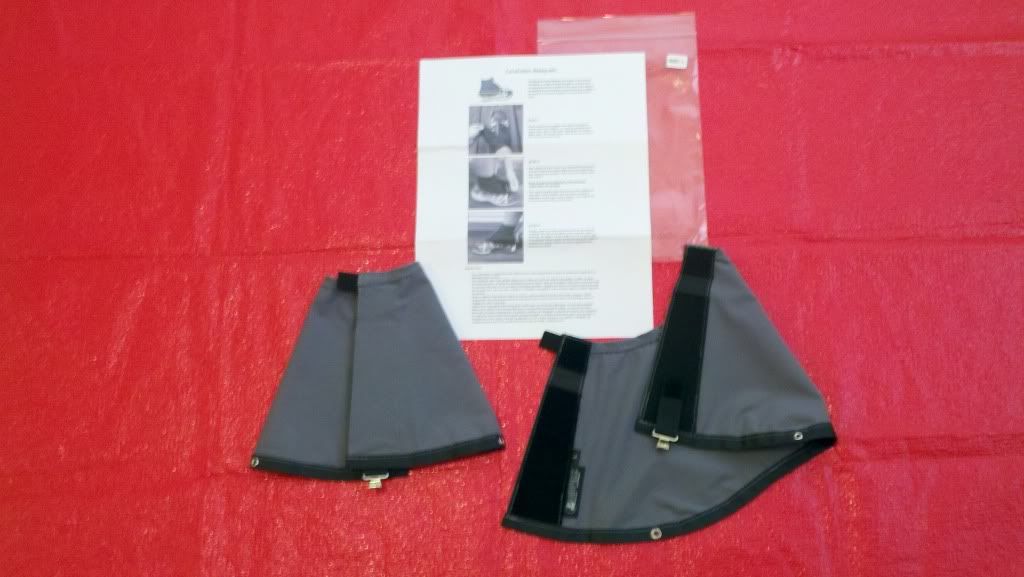 LevaGaiter unboxing
My shoe size is 11.5 and my ankle circumference is 9 inches. I ordered the XyLarge Dirty Girls in the Giardia print and the Large LevaGaiters in LITE Gray.
Both arrived in a zip-lock pouch with a page of instructions. The Dirty Girls also came with 16 inches of Velcro, which is enough for the heels of eight pairs of shoes.
The materials and stitching of both gaiters appear to be of high quality. The Dirty Girls use a polyester/lycra blend, and the LevaGaiters use a nylon/lycra blend. Nylon is more abrasion resistant than polyester, but polyester feels softer and silkier in the hand.
On the toes of the gaiters, the Dirty Girl shoelace hook is long and narrow, while the LevaGaiter's is short and wide. The LevaGaiter's hook is adjustable and can be extended or retracted with its Velcro strap. The hook is fully retracted in the photo below.
To secure the heels of the gaiters, the Dirty Girl requires that an inch strip of Velcro be affixed to the heel of your shoe so that the heel of the gaiter can attach. The LevaGaiter heel is kept on by tension after pulling the gaiter tight and securing the Velcro closure that runs the front length of the gaiter.
Dirty Girl and LevaGaiter shoelace hooks
Dirty Girl and LevaGaiter Velcro
The major difference between these two gaiters is in how you put them on.
To put on the Dirty Girls, slip the gaiter on over your sock, put on and tie your shoe, secure the gaiter to the heel of your shoe with the Velcro, and hook your shoelace to secure the front.
To put on LevaGaiters, Velcro the gaiter around your ankle, hook your shoelace to secure the front of the gaiter, wrap the gaiter around your foot and secure it with the rest of the Velcro, then pull the back of the gaiter snugly over the heel of your shoe.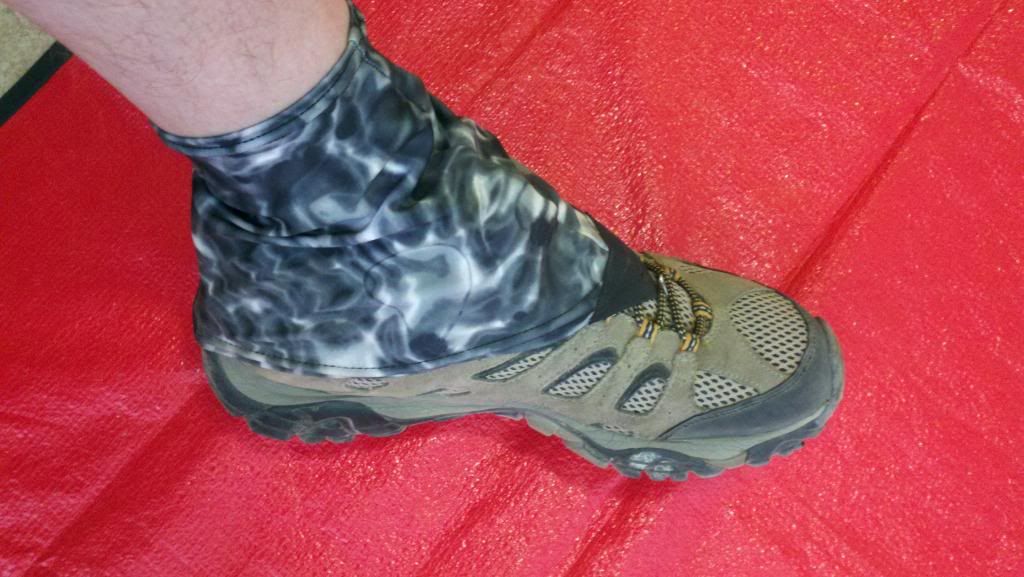 Dirty Girl Gaiter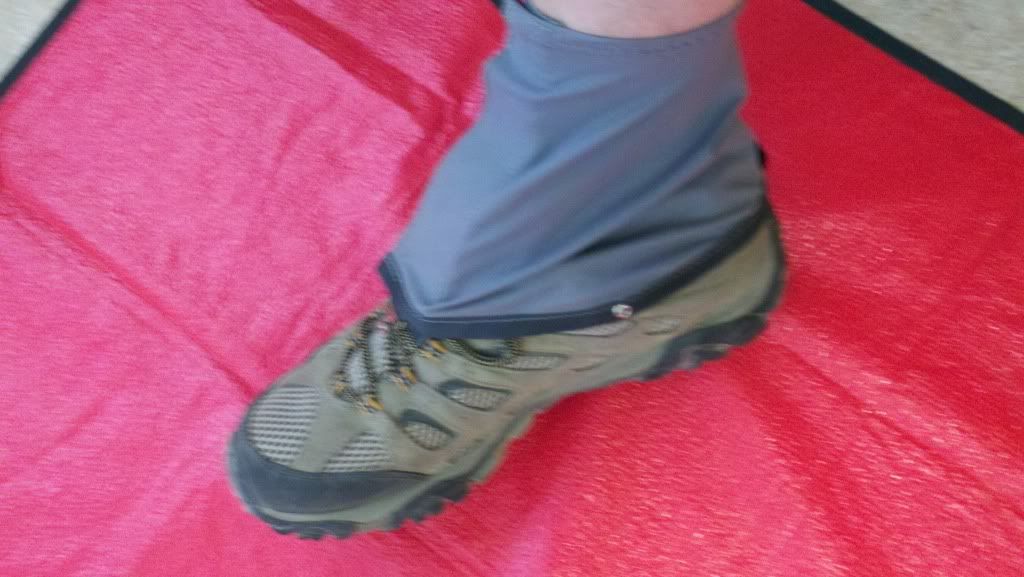 Simblissity LevaGaiter
As a short-term field test, I wore each pair of gaiters over my size 11.5 Merrell Moab Ventilators for a couple of long day hikes in desert terrain, including sandy desert washes and a few hills. I experienced occasional wind but no rain.
Both gaiters were very effective at keeping sand and scree out of my shoes. Neither caused my feet to heat up or sweat more than usual.
The Dirty Girls were extremely comfortable, and I soon forgot that I was wearing them. The LevaGaiters were a bit more finicky. I had to readjust the Velcro closure for a more comfortable fit a couple of times during the first mile of hiking. Because of the snugger fit and the stiff Velcro closure on top of the foot, I was more conscious of wearing the LevaGaiters while hiking. I also noticed that the heels of the LevaGaiters rode up slightly but never enough to let in sand. The Dirty Girl heel Velcro remained secure.
Although the Simblissity website does not mention that the LevaGaiter fabric has a Durable Water Repellent (DWR) coating, I noticed that they were water resistant when rinsing them in my sink. The Dirty Girl fabric was not.
A Dirty Girl and a LevaGaiter
Choosing between Simblissity LevaGaiters and Dirty Girl Gaiters is not easy, and may depend on the type of hiking you do. Both are lightweight, inexpensive, effective scree gaiters, but each has its advantages.
softer and more comfortable

less finicky to fit

0.4 oz lighter

$8 less expensive

greater range of sizes

variety of colors/prints
can put on and take off without removing shoes

no need to put Velcro on shoe heels

durable nylon

water resistant

instep cord eyelets

adjustable shoelace hook
Before field testing these gaiters, I thought that the LevaGaiters would be my choice; they feel more durable, don't require Velcro on the heel of your shoes, and can be put on and taken off without removing your shoes. These are all good reasons to buy LevaGaiters. I decided to go with the Dirty Girls simply because they have a more relaxed and comfortable fit--so comfortable that I forgot I was wearing them. Other advantages, like their lighter weight and lower price, are a bonus. And who knows, maybe the Giardia print will remind me not to get Giardia.