For the PCT, I made three little pieces of gear out of aluminum foil: a pot lid, a base plate for my Fancy Feast cat food can stove, and a windscreen. I still like aluminum foil for my pot lid and base plate, but the windscreen left me wanting something more durable and sturdy for future hikes.
I have made windscreens out of disposable aluminum sheet pans and have considered the soft aluminum windscreens offered by MSR and other companies, but those didn't seem much of a step up from aluminum foil. I want to really step it up or just stick with aluminum foil.
To that end, I wound up buying two fancy windscreens: the Vargo Aluminum and the LiteTrail Titanium Foil. This initial review will determine which one I bring with me on the AZT for long-term testing.
Vargo and LiteTrail windscreens flat
The Vargo windscreen is made of five aluminum plates connected with four hinges. This structure allows for a variety of configurations. Each plate is rigid and has a cutout on the bottom to allow air flow. There's an equivalent cutout on top in case you want to lay tent stakes across it and use the windscreen as a light pot stand.
The LiteTrail windscreen is a single strip of titanium foil. Titanium foil is springy and has a tendency to flatten out rather than keep a curve. LiteTrail has crimped both ends of the screen to form interlocking tabs that keep the windscreen locked in a complete circle. There is a row of ten holes along half of the windscreen to allow air flow. The other half is solid to block the brunt of the wind. LiteTrail sells this screen with or without a pot handle cutout. I bought the one without the cutout.
Here's a table comparing some specs.
| | | |
| --- | --- | --- |
| | | |
| | | |
| | | |
| | | |
| | | |
| | | |
| | | |
| | a pentagon, so 4.5" plus corners | |
Both windscreens easily fit inside my 0.6L GSI Minimalist pot along with other items.
Vargo windscreen packed inside my 0.6L pot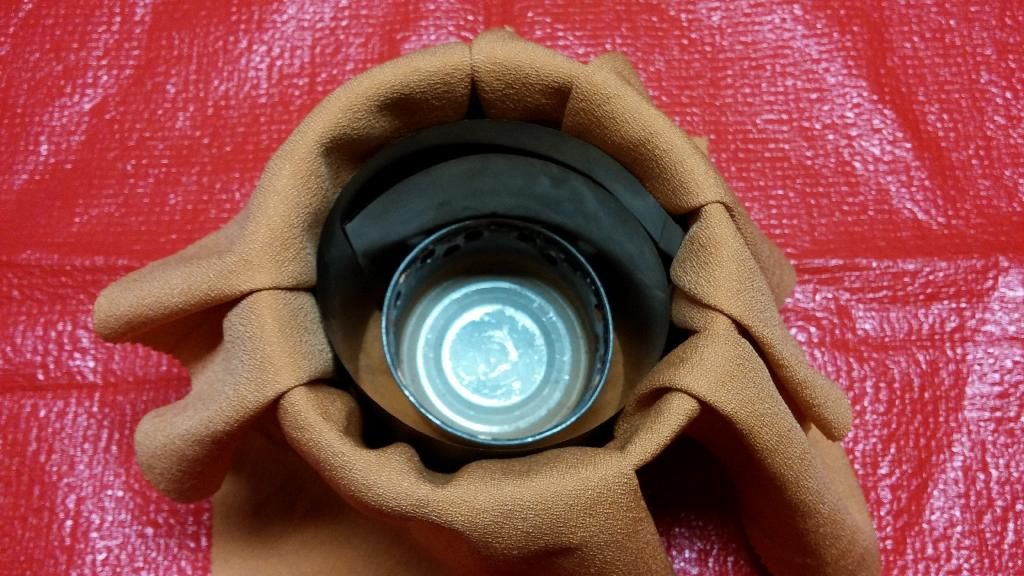 LiteTrail windscreen packed inside my 0.6L pot
Both windscreens fit well around my Fancy Feast stove and 0.6L GSI pot.
Vargo windscreen around my Fancy Feast stove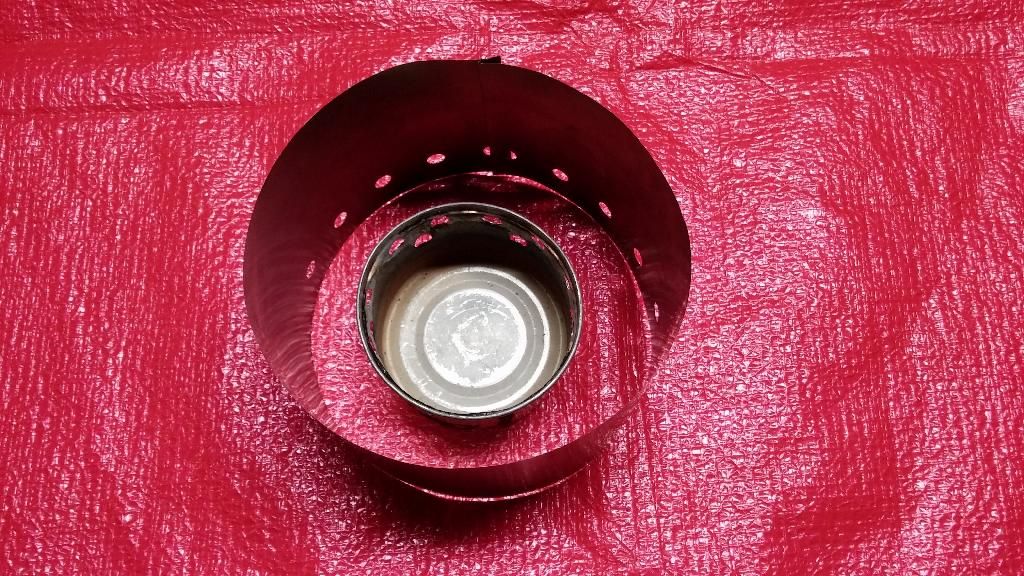 LiteTrail windscreen around my Fancy Feast stove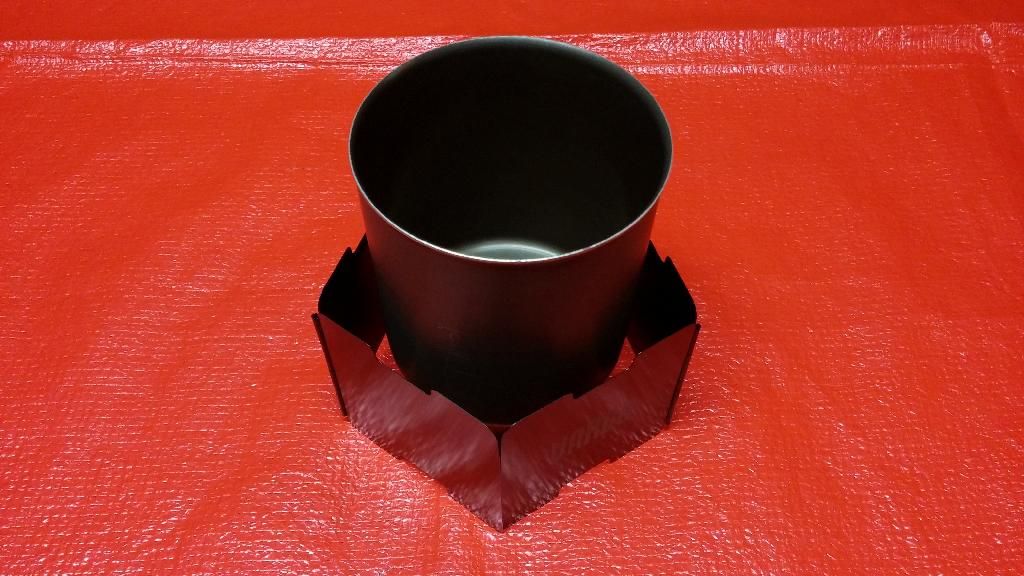 Vargo windscreen around my 0.6L pot and stove
LiteTrail windscreen around my 0.6L pot and stove
IN THE FIELD
I used both windscreens and timed how long it took to boil 0.5L of water in my GSI pot using my Fancy Feast stove with Heet fuel. I also timed how quickly each screen cooled after the boil. I ran this test twice, both times on slightly breezy days.
The average boil time using the Vargo windscreen was 9.25 minutes. The average boil time with the LiteTrail windscreen was 8.75 minutes. The LiteTrail was half a minute quicker, but that doesn't mean much considering that this is an average of just two boil times. The LiteTrail does feel like it cools off more quickly than the Vargo after use. The average cooling time for LiteTrail was 11 seconds compared to 36 seconds for Vargo.
I prefer the venting design of the LiteTrail. It's useful to have a solid half of the circumference to turn into the wind while having holes in the other half to provide air flow to the stove. Vargo's cutouts on the bottom of each aluminum plate allowed air flow, but always from all sides. That occasionally let the wind toss the flame around.
The LiteTrail titanium quivers in the wind a bit but holds its ground. I think the tension created by locking the springy titanium foil into a circle makes it much more stable than my softer aluminum foil screen. I imagine that a strong wind might blow the titanium foil windscreen against your pot, but it would stay hooked together in a circle and you could easily tap it back into place. The Vargo didn't budge. I'm not sure if this is mainly because of its weight or its angular design.
Cost: I think the only windscreen that's cheaper than an aluminum foil windscreen is a stolen windscreen. But like I said, I want to try something more stable and durable than aluminum foil. There's only a dollar difference between the Vargo and LiteTrail prices. Winner: Draw.
Weight: The LiteTrail is just as light but more stable and durable than my 3-ply aluminum foil windscreen. Both weigh 0.2 oz. The Vargo, however, is 6 times as heavy--an ounce heavier--at 1.2 oz. Winner: LiteTrail.
Stability: As described in the last paragraph of the "In the Field" section, the Vargo was sturdier, but the LiteTrail held its ground and is sturdier than aluminum foil. The Vargo windscreen is also sturdy enough to serve as a light pot support according to the Vargo website. It supported my 0.6L pot full of water with no problem. The LiteTrail is not meant to be used as a pot support, and if you fold or crumple titanium foil, it won't regain its shape. Winner: Vargo.
Durability: This category is difficult because I have not used these windscreens enough to evaluate durability. Based on appearances, the Vargo is made of five fairly sturdy aluminum plates, but the hinges connecting them might be its Achilles heel. The LiteTrail's continuous piece of titanium foil is likely to be more durable. I've also heard that titanium is more heat resistant than aluminum, which means it may be less likely to warp over time. Winner: Unknown, but I suspect the LiteTrail will be more durable.
I'm choosing to go with the LiteTrail titanium foil windscreen because it's the same weight as my old aluminum foil windscreen but appears to have the added stability and durability that I want. I also prefer its design to Vargo's.
I'm not totally sold on the LiteTrail windscreen over aluminum foil, but I'll bring it on the AZT to see how it performs long term. It may very well turn out that I come crawling back to aluminum foil, vowing never to be lured away by another windscreen's smooth, curvaceous titanium or flexible hinges again.